What you need to know about the rout that just wiped $200 billion off the cryptocurrency market in one day
bitcoinagile
-
5/14/2022 2:07:10 PM - GMT (+0 )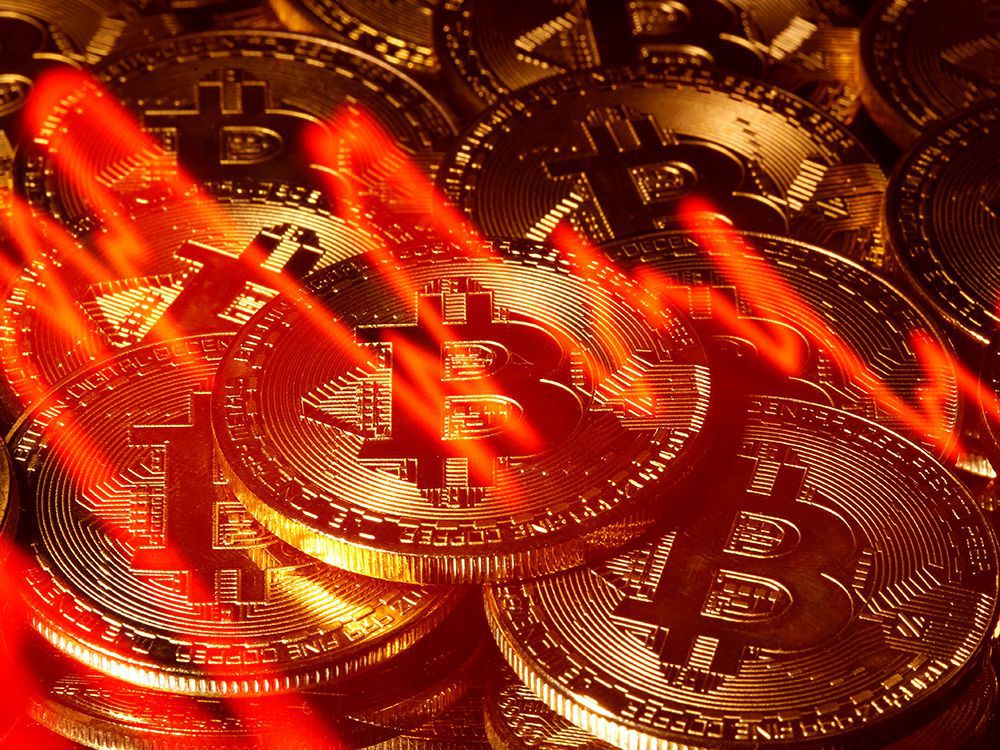 Contagion spreading to stock markets as investors see one more thing to worry about
Article content

A massive sell-off has spread like wildfire through the world of cryptocurrencies in what one analyst says is reminiscent of the bank runs during the 2008 financial crisis. Here is what we know.
Article content How much did they lose?

The sell-off wiped over US$200 billion off the cryptocurrency market in just 24 hours, Bloomberg reports, citing estimates from price-tracking website CoinMarketCap.

Bitcoin plunged by as much as 10 per cent to its lowest levels in 16 months at US$25,401.05. Over eight sessions it lost a third of its value, or US$13,000, and is down more than 45 per cent so far this year. From a peak of US$69,000 in November 2021, it has lost nearly two-thirds of its value.
Article content

Ethereum, which has shed more than half its market value so far this year, dropped as much as 16 per cent.

The rout put the combined market value of all cryptocurrencies at US$1.12 trillion, about a third of where it was last November, Reuters reports, citing data from CoinMarketCap, with more than 35 per cent of that loss coming this week.
Article content What caused it?

Panic spread from a meltdown this week in stablecoin TerraUSD, known as "UST", when it slipped below its 1:1 peg to the dollar.

"The collapse of the Peg in TerraUSD has had some nasty and predictable spillovers. We have seen broad liquidation in BTC, ETH and most ALT coins," Richard Usher, head of OTC trading at BCB Group, told Reuters, adding that the moves are reminiscent of the bank runs during the 2008 financial crisis.
Article content

TerraUSD, which recently climbed into the top 10 tokens by market value, was quoted around 50 cents Thursday, according to CoinGecko price data.

Stablecoins are digital tokens pegged to the value of traditional assets, like the U.S. dollar, and are favoured in crypto markets in times of turmoil.
Article content

Most stablecoins are backed by reserves, but TerraUSD is an algorithmic, or "decentralized," stablecoin, which is supposed to maintain its peg via a complex mechanism which involves swapping it with another free-floating token, says Reuters.

But even reserve-backed stablecoins, which say they have sufficient assets to maintain their pegs, were showing signs of stress on Thursday.

Tether, a major stablecoin, slipped below its dollar peg, hitting as low as 98 cents early Thursday, according to CoinGecko. USD Coin was trading at around US$1.04 while Binance USD was at US$1.07 – a significant breakout of its usual range, said Reuters.

"The Terra incident is causing an industry-based panic, as Terra is the world's third-biggest stable coin," Ipek Ozkardeskaya, a senior analyst at Swissquote Bank, told Reuters. But TerraUSD "couldn't hold its promise to maintain a stable value in terms of U.S. dollars."
Article content What happens now?

Crypto-related stock in Asia also tanked, suggesting that the carnage was spreading further. Hong Kong-listed fintech firm BC Technology Group Ltd. closed down 6.7 per cent. Japan's Monex Group Inc. — which owns the TradeStation and Coincheck marketplaces — closed down 10 per cent.

The biggest blow may be to stablecoins billing as, well, stable.

The rout may also undermine the idea that cryptocurrencies, which have sat out past stock selloffs, are dependable stores of value amid volatility. The digital world appears to be facing the same flight from risk as the wider market — and in this case may even be fuelling it.

As both stock markets and crypto markets fell Thursday, traders cited chaos in the crypto market as a focal point for concern, Bloomberg reports. Strategists worry that small traders, who lost a lot in the meme stock craze, will be wiped out with these crypto losses and sell everything else.
Article content

"Contagion here is not via linkages between the crypto ecosystem and the traditional financial system, but via retail investors sentiment," Nikolaos Panigirtzoglou, global market strategist at JPMorgan Chase & Co, told Bloomberg. "If the $1 trillion capital loss in crypto markets causes broad-based retrenchment by retail investors in other risk assets such as equities, then that is where the spillover is."

What does this mean to investors?

Market players are still assessing the fallout of the collapse of TerraUSD to determine whether major companies or investors have been badly hurt, which would provide a possible clue to wider contagion, reports Reuters.

As for the crypto billionaires, they've been having a tough few weeks.

The fortune of Brian Armstrong, founder and CEO of Coinbase Global Inc., the largest U.S. cryptocurrency exchange, has shrunk from US$13.7 billion in November to just US$2.3 billion, according to the Bloomberg Billionaires Index.

Coinbase's shares have tanked 78 per cent since its April 2021 IPO, forcing Armstrong to take to Twitter to defend his company.

There is "no risk of bankruptcy" even amid a "black swan" event and users' funds are safe, he tweeted.
Article content
"Markets are irrational in the short term but not over the long term. They sometimes offer fire sale prices on the greatest companies in the world." - @fredwilson

— Brian Armstrong - barmstrong.eth (@brian_armstrong) May 11, 2022
Canadian Changpeng Zhao, the CEO of closely held Binance, has lost an even larger fortune than Armstrong on paper. Bloomberg reports that he debuted on the Bloomberg wealth index in January with a net worth of US$96 billion, making him by far the richest Canadian. By Wednesday that had shrunk to US$16 billion, using the average enterprise value to sales multiples of Coinbase and Canadian crypto firm Voyager Digital as a basis for the calculations, said Bloomberg.
Reporting by Thomson Reuters and Bloomberg
Share this article in your social network
Sign up to receive daily headline news from the Calgary Herald, a division of Postmedia Network Inc.
By clicking on the sign up button you consent to receive the above newsletter from Postmedia Network Inc. You may unsubscribe any time by clicking on the unsubscribe link at the bottom of our emails. Postmedia Network Inc. | 365 Bloor Street East, Toronto, Ontario, M4W 3L4 | 416-383-2300
Thanks for signing up!
A welcome email is on its way. If you don't see it, please check your junk folder.
The next issue of Calgary Herald Headline News will soon be in your inbox.
We encountered an issue signing you up. Please try again
read more