The _Institutional Crypto_ newsletter is out. In this week's column, the myths & realities of sentiment analysis. Read & sign up here:
coindesk
-
12/10/2019 6:05:48 PM - GMT (+0 )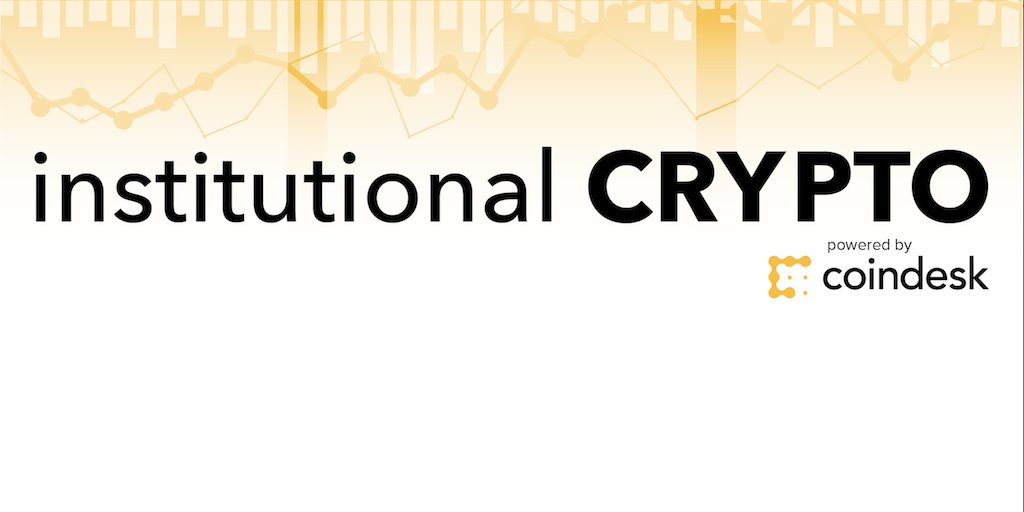 *
never enough time - I've starred five especially compelling links, but do check out the rest when you can!
BIG IDEAS
*A Look at Innovation in Bitcoin's Technology Stack (Digital Asset Research) – Bitcoin's construction may be immutable by design, but in there is a lot of work going on in enhanced functionalities and additional services.
*Four Insights on Crypto Liquidity From Binance US and FTX (CoinDesk) – A recap of the latest CoinDesk Research webinar on market liquidity, with some eye-opening clarifications and a few surprises.
Macro investor Raoul Pal muses on the importance of the development and brain power in the crypto space, and how it is futile to try and put labels on deep innovation.
Deutsche Bank Gives Crypto Enthusiasts Some Hope to Hang On (Bloomberg, paywall) – Rising doubts about the sustainability fiat currencies and a growing concern over privacy could drive more people to digital assets, Deutsche Bank strategist Jim Reid wrote in the firm's "Imagine 2030" report on 24 alternative ideas for the next 10 years.
State-backed crypto is a contradiction (FT Alphaville) – Apparently the Deutsche Bank report relies on questionable charts and a shaky understanding of what crypto is.
Bitcoin Halving Could Leave Price at $20K-$50K, Hedge Fund Manager Says (CoinDesk) – Assuming demand holds steady, the drop in new supply should provide a price bump, according to professor and fund manager Charles Hwang.
State Street: 38% of Clients Will Put More Money into Digital Assets in 2020 (CoinDesk) – According to a recent survey, 94% of the global custodian's clients hold crypto assets or derivatives, but none have yet asked it to store them.
Are Miners the Modern Hedgers? (ErisX) – A review of the economic risks crypto miners face.

MARKETS
Delphi Digital's latest Macro Outlook report (paywall) looks at the recent bitcoin sell-off against a backdrop of a weakening dollar, growing demand for safe haven assets and greater asymmetric risk to the downside for several asset classes.
Bitcoin Volatility Is Up, Liquidity Stagnant (CoinDesk) – Galen Moore shares metrics that show that market maturity has not significantly advanced this year.
*Trading Places: Tron soils Poloniex, Coinbase looks to embrace Wall Street again, and other exchange musings (The Block, paywall) – Frank Chaparro looks at recent changes at Circle, Poloniex, Coinbase and Gemini.
Crypto Funds Are Closing While the Biggest Investors Stand Aside (Bloomberg, paywall) – According to Crypto Fund Research, nearly 70 institution-focused crypto hedge funds have closed so far this year, and the number of fund launches is less than half that of 2018.
*When evaluating spot exchanges based on order book depth, Bitfinex appears the most liquid (The Block, paywall) – A deep look at market liquidity shows that Bitfinex, Coinbase, Kraken, Bitstamp, Binance, and FTX have the deepest liquidity when it comes to BTC, ETH and XRP.
Bitcoin more popular than Netflix stock among millennials; GBTC one of their top 5 equity holdings (The Block) – According to a report published by brokerage giant Charles Schwab, 1.8% of 25-39 year olds hold Grayscale's Bitcoin Trust investment product, making it the fifth most widely-held investment.
Best-Performing Cryptocurrency Powers Controversial Exchange (Bloomberg, paywall) – Insight into a growing subset of digital assets, and the innovative business models they represent.
A Crypto Trader's Guide to USDC (Circle) – It's not just a payment mechanism.
Alex Kruger lifts the lid on the myth that Bakkt's futures are backed by bitcoin (spoiler: they're not).
Bitcoin Price Increases During Holidays Again, But Not Because of FOMO (SFOX) – It's more likely a case of a self-fulfilling prophecy: we expect the price to go up at the end of the year, so it goes up at the end of the year.
LedgerX Places Founders on Administrative Leave After Tussle With CFTC (CoinDesk) – Larry E. Thompson, formerly of the DTCC, has been named as interim CEO and lead director of Ledger Holdings, the derivatives provider's parent company.
NEW PRODUCTS
Crypto Lender BlockFi Rolls Out Zero-Fee Trading for Bitcoin, Ether, GUSD (CoinDesk) – The firm will enable clients to use deposited assets to buy other assets.
Swiss Startup Amun Wins Regulatory Approval to Sell Crypto-ETPs to EU Retailers (CoinDesk) – The Swedish Financial Supervisory Authority has cleared a base prospectus filed by the ETP manager, which means that EU retail investors with access to the Swiss SIX and German Boerse Stuttgart exchanges can trade various crypto ETPs.
Asset Manager Secures SEC Approval to Create Novel Bitcoin Futures Fund (CoinDesk) – The NYDIG Bitcoin Strategy Fund, a portfolio fund in the Stone Ridge Trust VI, will invest in cash-settled bitcoin futures contracts traded on exchanges registered with the CFTC.
Asia's Grayscale? Two new bitcoin trust products get launched, with Coinbase as custodian (The Block) – Hong Kong-based asset management firm IDEG Investment has launched two new bitcoin trust products, Asia Bitcoin Trust I and Atlas Mining Trust I, which reportedly have $200 million AUM.
Bakkt Goes Live With Options, Cash-Settled Futures Products (CoinDesk) – Both products settle to the Bakkt Bitcoin (USD) Monthly Futures contract.
Ex-Morgan Stanley Executives Launch Crypto Derivatives Platform in Singapore (CoinDesk) – Phemex claims to be 10x faster than traditional crypto exchanges, and offers perpetual contracts for bitcoin, ethereum and XRP with up to 100 times leverage for retail and institutional investors.
Crypto Exchange OKEx Launching Options Trading Later This Month (CoinDesk) – The Malta-based exchange will commence simulated options trading on Dec. 12, with live trading kicking off on Dec. 27.
BTSE Exchange Plans $50M Token Raise on Blockstream's Ethereum Rival Liquid (CoinDesk) – The Dubai-based cryptocurrency exchange is looking to sell 50 million tokens at $1 each, tentatively in March 2020.
Ronaldo's soccer club Juventus now has a token that gives its over 400M fans voting power (The Block) – Juventus now has its own crypto token $JUV, which fans can buy on the Socios platform.
Russia's Richest Man Starts Testing Sales of Crypto Metal Tokens (Bloomberg, paywall) – MMC Norilsk Nickel PJSC, one of the world's largest producers of palladium, nickel, platinum and copper, has started testing a platform for digital metal tokens.
Saga Stablecoin Goes Live Backed by Basket of Fiat Currencies (CoinDesk) – The token aims to be a store of value to begin with, morphing into a free-floating asset over time as users buy in and signal their trust in its value.
CRUNCHING NUMBERS
Alex Thorn points out that the number of bitcoin addresses with positive balances has hit an all-time high, but the metric has weaknesses.
An On-Chain Analysis of Litecoin (IntoTheBlock) – 80% of LTC holders would lose money if they decide to sell today, even though the number of long-term holders is steadily increasing.
Security Token Prices, Volumes, & Market Cap Now Live on STOmarket.com (Security Token Group) – Security token sector watchers finally have a dashboard for prices, although for now only six tokens are listed.
REGULATORS AT WORK
Top US Financial Regulators Urge Monitoring of Digital Assets, Stablecoins (CoinDesk) – In the Financial Stability Oversight Council's annual report, a panel of financial regulators including Treasury Secretary Steven Mnuchin, SEC Chairman Jay Clayton and CFTC Chairman Heath Tarbert recommended that state and federal governments continue to examine the financial risks posed by digital assets.
PODCASTS
*WHAT BITCOIN DID: Peter McCormack has a deep discussion with bitcoin investor and analyst Tuur Demeester about how the emergence of crypto assets has triggered difficult questions which will lead to profound changes in societal structures, financial diversity and business models.
ON THE BRINK: Nic Carter and Matt Walsh chat to Alex Pack, co-founder and general partner at Dragonfly Capital, on the difference between Asian and US crypto ecosystems, the role that regulators play in that, the meaning of "store of value" and the role of tokens in the emerging decentralized economy.
STEPHAN LIVERA PODCAST: Stephan chats with Parker Lewis of Unchained Capital about bitcoin in a macro-economic context.
STATE OF CRYPTO: The Amun team talk about the impact recent regulatory actions could have on token issuances and markets.
A-HA!
Brace for the Digital-Money Wars (Wall Street Journal, paywall) – The financial privacy battle could reach geopolitical levels when countries start issuing their own digital currencies.
What Kind of Capitalism Do We Want? (Project Syndicate) – Klaus Schwab presents the case for "stakeholder capitalism."
Why is the world's financial plumbing under pressure? (BBC) – The evolution of financial messaging, and how it's still vulnerable to manipulation.
Why White-Collar Workers Spend All Day at the Office (The Atlantic, paywall) – The digital revolution has given us freedom… to work all hours of the day.

read more